Here's a few interesting possibilities you might consider.....
WORKSHOPS (2 DAY)
*Shamanism Weekend
*Dowsing/Divining Weekend
*Angel Training Weekend
*Tantra Yoga Weekend
PRIVATE SESSIONS
*General Consultation
*Angel Reading
*Tarot Reading
*Shamanic Healing
*Divining Consultation
OTHER IDEAS
*Geopathic Stress House Clearing
*New House Blessing
*Baby Naming Ceremony
*Private Daytrip to Sacred Sites
New
Traditional Healing
Book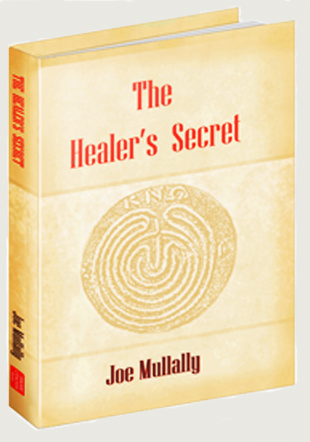 ANAM Holistic Gift Voucher Ideas

Get a completely flexible Gift Voucher
for that special present
nominate your voucher for a particular purpose
or
select an OPEN value - in which case
the recipient themselves can put it towards any program of their own choosing.
All our vouchers are valid for a full year from the date of issue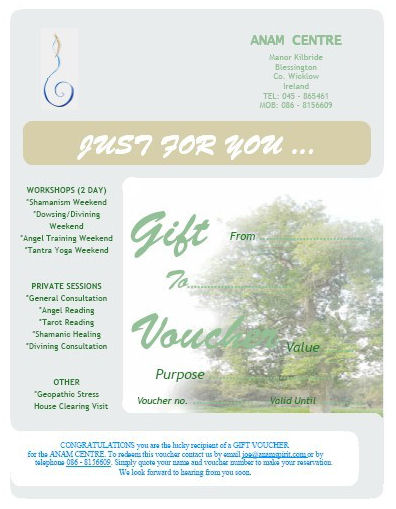 You can purchase your Gift Voucher HERE NOW online
The Voucher Certificate will be sent to you by email within a few days, as a PDF file ready to print .
To order a Gift Voucher Certificate by post
send cheque in euros payable to
"Joe Mullally"
(Include your address and Telephone number and the name of the recipient.)
and mail it to our address given at the foot of the page
your Voucher will be sent to you by return post
FULL DETAILS OF UPCOMING COURSES AND WORKSHOPS
FULL DETAILS OF PRIVATE SESSION OPTIONS
Flexable, original, different and always remembered
HOTEST LINKS & COOLEST UPDATES